Do you feel like your regular cleaning routine just isn't enough? Does your floor fail the "paper towel test"?
We have some advice for you!
Your problem may not be with the cleaning but with your floors finish. Wood must be treated to protect it and give it a nice shine. There are different types of finishes but I won't get into all that today. I'll try to keep it simple. A popular floor finish is polyurethane, which doesn't last forever (gasp!). I know right? Also keep in mind, a lot of wood floors are stained (with color) and if the protective finish is worn down or missing, you might just be rubbing some of that stain color onto your cloth / paper towel during the "test" thinking its all dirt.

So if the floor finish isn't made to last forever, what is a homeowner to do? I bet you can imagine the expense and hassle of having your floors professionally stripped, sanded, and refinished. Sometimes, that is the best solution. If they are in pretty good shape, just starting to get dull, adding a new top coat may do the trick.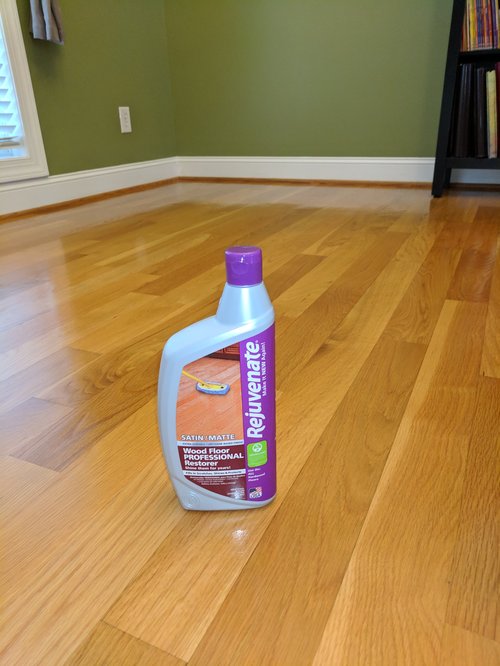 When we purchased our 10-year old "new to us" home, the hardwood floors were beautiful but in need of some shine. I purchased this product "Rejuvenate" from my local home improvement store and it was very easy to apply. It was also easy since we hadn't moved our furniture in yet. The instructions on the bottle were pretty straight forward. Fast forward 2 years, and I've noticed my floors not getting clean as easily and looking dull. Today I've cleaned and applied another 2 coats in high traffic rooms (like my kitchen and front entry) and they are shiny again. How often you need to do this and how many coats just varies on how much of a beating your floor takes — every home is so different.